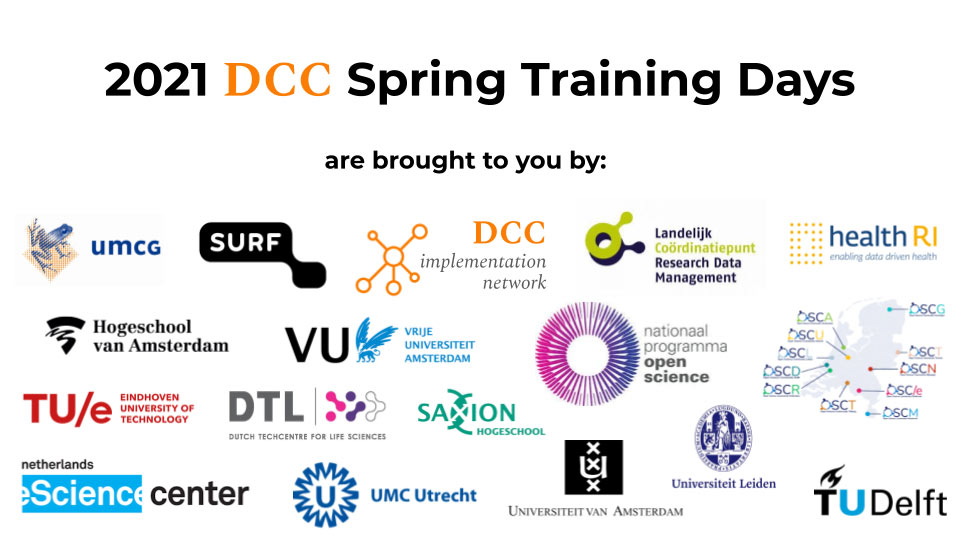 The Digital Competence Center (DCC) Implementation Network and partners would like to invite you to the 2021 DCC Spring Training Days!
In three interactive afternoons in May and June of 2021, we will cover several topics related to Research Data Management (RDM) and Open Science. The DCC Spring Training Days are intended as a pilot for a national collaboration on training and workshops in Research Data Management and Open Science, aimed at both researchers and starting research data stewards.
For this pilot, we can accept 30 participants. From the registrations, we will select a diverse group of researchers and data stewards from different backgrounds.
The Training Days are designed for people new to RDM and Open Science, and will be held via Zoom. Participation is free of charge. You can register here!
This is the programme for the three Spring Training Days:
Session 1 (May 20, 13:00-17:00 CEST) – Engagement: connecting researchers and data stewards
12:45 – 13:00 Virtual coffee
13:00 – 13:05 Welcome & purpose of the meeting (Irina van Dijk, UMC Utrecht)
13:05 – 14:20 (Reviewing) data management plans (Esther Plomp, TU Delft)
14:20 – 14:35 Break
14:35 – 15:35 Escape room experience (Anne Aarts, TU/e & Elisa Rodenburg, VU Amsterdam)
15:35 – 15:40 Break
15:40 – 16:55 Community building (Lou Woodley, CSCCE)
16:55 – 17:00 Wrap-up
Session 2 (June 3, 13:00-17:00 CEST) – Organising your data and software with a reproducible project workflow
12:45 – 13:00 Virtual coffee
13:00 – 13:05 Welcome & purpose of the meeting (Sander Bosch, VU Amsterdam and Maaike de Jong, eScience Center)
13:05 – 14:00 PRESENT: project organization, folder structure, file naming, file content, documentation through readme (Barbara Vreede, eScience Center)
14:00 – 14:10 Break
14:10 – 15:00 PAST: project history, version control (Barbara Vreede, eScience Center)
15:00 – 15:15 Break
15:15 – 16:15 FUTURE: licensing, publication, citation, archiving, reproducibility (Barbara Vreede, eScience Center)
16:15 – 16:25 Break
16:25 – 16:50 Break-out discussion: personal stories of challenges and struggles
16:50 – 17:00 Plenary wrap-up
Session 3 (June 17, 13:00-17:00 CEST) – The role of good RDM in accelerating scientific progress
12:45 – 13:00 Virtual coffee
13:00 – 13:10 Welcome & purpose of the meeting (Joanne Yeomans, Leiden University)
13:10 – 14:10 Reproducibility: introduction and Reprohack hands-on (Kristina Hettne, Joanne Yeomans, Leiden University)
14:10 – 14:20 Break
14:20 – 15:20 FAIR (meta)data in practice (Kristina Hettne and Joanne Yeomans, Leiden University)
15:20 – 15:30 Break
15:30 – 16:30 How best to archive data? (Kristina Hettne and Joanne Yeomans, Leiden University)
16:30 – 17:00 Quiz and wrap-up
Kind regards,
The organisation team